Good Morning! Happy Monday.. Wait.. Ok, I suppose. I know Monday's don't usually seem very happy, but we're gonna try! :) Here's what you missed on today's show!
Morning Brain Buster:
Q: 1.3% of those surveyed say they eat 15 or more of THESE a month. What is it?
A: Hamburgers
Bonehead Of The Day:
A Kansas man was arrested for throwing food at his wife, then striking her mother.
The 26-year-old suspect and his 23-year-old wife got into an argument. As it intensified, he threw a cheeseburger at her, hitting her in the face. He then punched his wife's mother in the face.
Police were called and the man was arrested for domestic violence.
Pity We Missed The National Redneck Olimp-Hicks (Skills From Belching & Belly Flopping To Bobbing For Pigs Feet
The National RedNeck Olymp-Hicks & Food Drive was held Saturday (in Augusta, Georgia) and 'rednecks' and those who love them came out for lots of country-themed activities. Among them were mud wrestling, belly-flops into a giant mud puddle, keg toss, and belching contest.
This Is What Will Happen If You Drink A Quart Of Soy Sauce
A 19-year-old Virginia man overdosed on soy sauce and went into a coma from the high sodium content.
He drank a quart of soy sauce on a dare from friends. He started twitching and having seizures almost immediately.
They took him to the ER where he was already in a coma. Doctors flushed the sodium out of his system within a few hours, and he came out of the coma three days later.
Almost a month later he shows no signs of the overdose and is back in college doing well on exams.
** Sodium overdose isn't new, but it's rare and it usually happens more gradually. It's rare in the US, but eating lots of salt was the preferred method for suicide in ancient China.
Life Altering Invention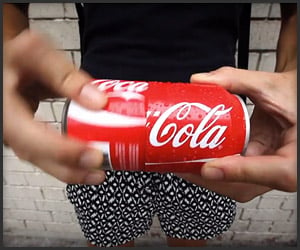 Coca-Cola has figured out a way to truly get two servings out of a single can, with these custom cans which can be split in two and shared.
---
The Company That Makes Oreos Has Invented Chocolate That Doesn't Melt!
Want to take your chocolate with you to the beach without having to worry about it melting in your hands?
The company that makes Oreos has created a new kind of chocolate that can resist up to 104 degree heat without melting.
The product has been created to help sales in countries like Africa and the Middle East.
Birthdays
~~Bodacious supermodel, Kate Upton is 21
~~Model-actress Elizabeth Hurley is 48 (Austin Powers, EDtv, Bedazzled)
~~Former Senator/Presidential candidate/cheating hubby, John Edwards is 60
~~First Daughter, Sasha Obama is 12 (Daughter of Barack Obama and Michelle Obama)
~~Actress, Leelee Sobieski is 31 (Jungle 2 Jungle, Deep Impact, Never Been Kissed, Eyes Wide Shut, Here on Earth, In The Name of the King; The Glass House)
~~Actress Gina Gershon is 51. (Showgirls; Face/Off; Bound; P.S. I Love You)
~~Actor, Shane West is 35 (Once and Again, ER's Dr. Ray Barnett; A Walk to Remember; Nikita)
~~Actress Kate Flannery (The Office) is 49
~~Actress, Carolyn Hennesy is 51 (Terminator 3: Rise of the Machines; General Hospital; Click; Cougar Town)
~~Actress Nicky Whelan (Hall Pass) is 32 (Scrubs)
~~NFL legend, Dan Fouts is 62
~~NFL running back, Marion Barber is 30
~~Olympic Gold Medal winner, Tara Lipinski is 31
~~Drummer Jimmy Chamberlin (Smashing Pumpkins, Zwan) is 49
~~Singer JoJo Hailey (of Jodeci, and K-Ci and JoJo) is 42
~~Singer Faith Evans is 40
~~Singer Maxi Priest is 52.
~~Pop Singer, Hoku is 32
Purge Wins At Box Office
"The Purge" knocked off "Fast & Furious 6" from the top spot at the weekend box office.
The thriller starring Ethan Hawke opened in first place taking in $36.4 million over the weekend. "Fast & Furious 6" fell to second with $19.8 million after two weekends at the top.
"Now You See Me" fell from second to third with $19.5 million and the new Vince Vaughn and Owen Wilson comedy "The Internship" opened in fourth with $18.1 million.
Top 10 Movies
1. The Purge, $36.4 million
2. Fast & Furious 6, $19.8 million
3. Now You See Me, $19.5 million
4. The Internship, $18.1 million
5. Epic, $12.1 million
6. Star Trek Into Darkness, $11.7 million
7. After Earth, $8 million
8. The Hangover Part III, $7.4 million
9. Iron Man 3 $5.8 million
10. The Great Gatsby, $4.2 million
Video Of The Day
I love it when live tv creates a problem.. It's kinda like live radio, sometimes there is a chaos that is magic, and sometimes it's dangerous.. This is more a case of the latter.